From what I can tell in the blogging world, "Five on Friday" is systematic way to share random thoughts.
Perfect.
Specifically, the "rules" are as follows:
1.) Write your post about five things you're lovin' this week (or any five things you want to share!). 2.) Share the logo on your blog and link back. 3.) Link-up at the bottom of the post so some new readers can check out your five things and say hello!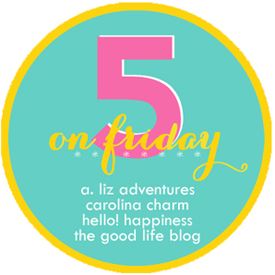 1. Denver opened it's first Trader Joe's last week. We happen to live a few blocks from it so of course,
we
I
had to get in on the hype. Line and all.
Among my first purchases were their Green Chili Tamales, their S'mores ice cream sandwiches and their Speculoos Cruncy Cookie Butter (which I may or may not be eating by the spoonful).
So, you know, the essentials.
2. We had an awesome Valentine's Day this year filled with our best friends. Make that my best friends with whom the guys have become besties by default. You're welcome gentlemen. Marisa and Ethan were visiting from Durango with their new peanut, Ellis and two other couples brought their little men, Asa and Andrew. Twas' quite the love fest with all the scrumptious babies!
Can I tell you how thrilled I am to have these ladies join the Mama club? Very.
We also managed to stay up until the wee hours playing Charades and Cards Against Humanity whilst the babies were sleeping. Needless to say, we paid for it the next day.
3.
House stuff
. Making decisions if exhausting.
4.
This
peanut is going to be ONE in less than a month!
Please tell me how that can be...besides the obvious that 12 months have passed. My heart aches and rejoices at the same time for this milestone.
I won't be shy about it. Weston has definitely fallen prey to the "second child syndrome". My Cannon has been out of it's bag almost never and if it wasn't for i-phones, I am afraid his existence would be less than documented. I have not even printed a photo of this little guy yet. Oh the shame.
So, it's no wonder that his first birthday party is still "in the works" (read: I have not done ONE thing yet). Todayiwillsendoutevites, todayiwillsendoutevites, todayiwillsendoutevites. Yep, that's my goal.
5. My, how Logan and Ezra have grown. Still best buds and getting bigger by the day:
I could die. Love!
6. Can I do six? Because I am. Can someone please tell me what the juicing craze is all about? In addition, how is a juicer different than a high quality blender? Seriously, I need to know.